Shafer Vineyard's Wines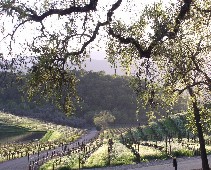 Shafer Vineyards utilizes smart, sustainable farming practices to cultivate some top-notch wines. But enough about how Shafer's goes about making captivating wines - what are the wines?

For starters, all of you Syrah fans out there - get your hands on a bottle of "Relentless," an 80/20 blend of Syrah and Petite Sirah. Named to honor Shafer's Winemaker, Elias Fernandez, and his relentless pursuit of quality. Massive, fruit-forward flavors of blackberry and cherry, this wine engages your whole mouth, demanding complete attention in a single sip. "Firebreak" is Shafer's Sangiovese and Cabernet Sauvignon blend, offering vivid, crushed cranberry and cherry flavors, seasoned with black pepper and hints of aromatic spice.

We enjoyed this wine with a homemade Italian-style pizza piled high with roasted red peppers, sundried tomatoes, fresh basil, Italian sausage, mozzarella, feta, and parmesan cheese on top. Or give their recently released "Red Shoulder Ranch" Chardonnay a go and you won't be disappointed - cool, crisp and consistently Carneros.